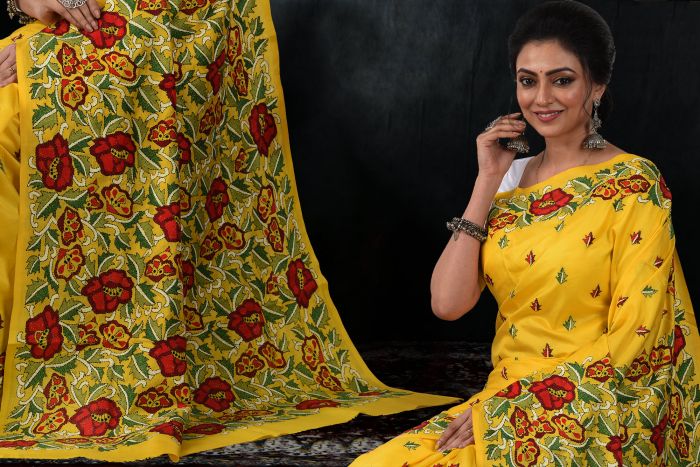 Best Kantha Stitch Saree
Do you want to have a unique Saree collection? Then Kantha Stitch Saree is best for your requirement as no two Kantha Stitch Sarees are identical.
History of Kantha Stitch Sarees
Kantha or Katha is a familiar name in every household in West Bengal where multiple rejected cloth pieces were stitched together to make a blanket. It is understood during these events the concept of Kantha Stick sarees invented which is one of the popular segments in saree. This hand-art of Kantha Stitch sarees has crossed the Indian customs and is being established an identity in the international fashion industry. This intricate Kantha Stitch artwork is very time consuming and usually, it takes 2-6 months for a full-time craftsperson to make one Kantha Stitch Saree.
All Kantha stitch sarees are mostly hand stitch, hence if one tries to make identical two sarees, still it will be unique in some of the other ways. The incredible Kantha needlework is the mostly handmade and purely traditional expression of creative ideas and emotions of the rural woman. Hence the idea and execution of two-person will not be the same and the same goes for their craftwork. The embroidery looks amazing and stylish.
Kantha Stitch sarees are the only category which is immensely popular in all woman age group. Its known for a classy look and more embroidery makes the saree look rich and ethnic. Kantha stitch sarees are easily recognizable for those who don't have much idea about sarees due to its unique embroidery which stands out in one's eye.
These types of sarees are a little expensive side as the amount of work is been done toward every saree to make then unique.
I have selected a few unique sarees for your easy reference in bestbengalisarees.in, please have a look and let us know your input.